Spring demand for fertilizers is associated mainly with the plants' saturation with nitrogen, which is the basis for increasing the vegetative mass. Agricultural holdings, trading companies and individual farms prepare for spring from the end of the autumn and during all the winter, buying such fertilizers as ammonium nitrate, urea, UAN, ammonium sulfate, etc. The earlier you buy, the lower the prices and the wider choice you have and there is enough time for logistics. Those who does not make it in time, looks for the goods in the spring at the maximum prices.
Needless nitrogen
Keeping in mind the instant stop of Ukrainian plants in the height of the spring season-2017, this time market participants, which are interested in fertilizers, prepared in advance. Traditionally, farmers in Ukraine have to apply up to summer at least 1 million tons of ammonium nitrate, 500-600,000 tons of urea, 400,000 tons of UAN and at least 100,000 tons of ammonium sulfate in natural weight. According to the calculations of IA "Infoindustry", about 590,000 tons of ammonium nitrate and substitutes (almost 60% of the requirement) were stocked up for this purpose since 2017. Among substitutes of ammonium nitrate the most popular was the complex formula NPK 33:1:1 (plant of "Akron" group in Dorogobuzh). Alternative to traditional ammonium nitrate products from other Russian manufacturers were also available at that time. Ukrainian ammonium nitrate amounted to just under half of these stocks.
Other nitrogen fertilizers were also stocked up in significant quantities. There were 90-100,000 tons of both urea and UAN by spring at the domestic warehouses. Urea was predominantly Ukrainian, and UAN, besides domestic product, was supplied from Belarus, Lithuania, the USA and other countries. Ammonium sulfate reserves, including coke grade, were about 60-70,000 tons.
During the first five months, 775,000 tons of ammonium nitrate and its substitutes were additionally supplied to the warehouses. The ratio of import and domestic goods remained unchanged. Certainly, there was a strong market over-saturation with fertilizers (by the way, plus about 480,000 tons of urea and 240,000 tons of UAN). Consequently, urea was relatively balanced. Concerning UAN, it is worth noting that the additional large volume of the product was supplied to the market by so-called "blenders". This business segment is difficult to control, but it should be recognized that it is comparable to the volume of production in the plants.
NP 20:20 from several Russian producers was the bestseller among the phosphate fertilizers in the first half of the year. In addition, MAP 12:52 (Russian) and MAP 10:46 (Kazakh), as well as ammoniated superphosphate 9:30 from Gomel Chemical Plant, were in great demand. About 100,000 tons of these products were supplied in the first five months. Ukrainian producers Sumykhimprom and DZMU were able to offer a little bit more than 20,000 tons of nitrogen-phosphate fertilizers, in particular, grades NP 12:24 and NP 10:32.
Among complex fertilizers, Russian and Belarussian NPK 16:16:16/15: 15:15, 10:26:26/9:25:25, 8:19:29 (Belarus) and 8:20:30 (Russian Federation and Lithuania) remained the leaders. Certainly, the list of all formulae is much wider. Sumykhimprom responded to importers by its own complex grades — 15:15:15, 8:19:29, 6:24:12. Despite of these products were started to be produced only from April, its volume was to 12,000 tons. Unfortunately, it is impossible to compare the strength of the domestic chemical industry with import in terms of the quantity of presented products in the market, since at present the forces are uneven.
So, this time, market participants are approaching the spring with a full set of various fertilizers. But winter and snow decided not to retreat in March, making the hell to the economy of market operators and disrupting the early fertilizers application (except the southern regions). The latest frosts in mid-March have cooled the demand for nitrates to almost zero. Agrarians of Western Ukraine generally decided not to procure fertilizers until Easter. Therefore, the most of the nitrate products remained unused. Even in the normal season, the surplus of ammonium nitrate would exceed 300,000 tons. Urea, as a product for a warm season, was in a good demand, so its balance was less.
Nitrogen fertilizers prices were good for the agrarians, since they were too low for the season and tended to weaken. However, many products were non-demanded.
À la guerre comme à la guerre
Market regulation by the authorities in 2018 was extremely active. The intervention was both economic and political. The latter is connected with military aggression and is directed exclusively against Russian suppliers. Many moments have become a breakthrough for the market.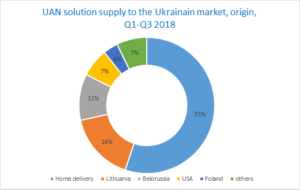 From March 2018, ammonium sulfate and calcium-ammonium nitrate (CAN) was in the list of goods forbidden to import to Ukraine from an aggressor country. Concerning CAN, the requirements of Ukraine are quite modest and Rivneazot is able to meet agrarians needs. The situation is more complicated and has many aspects in the segment of ammonium sulfate. In particular, it should be taken into account whether the Ukrainian agrarian should apply the product of coke origin, whether it is appropriate to Sumykhimprom to produce it in general instead of complex fertilizers.
The item of ammonium sulfate also concerns the introduction of quotas from September 1, 2018 on the import of sulfuric acid, regardless of country of origin. Acid is mainly used during ammonium sulfate production. Actually, its deficit affects the synthesis of popular sulfur fertilizer.
Earlier there were many products from the Russian Federation on the market, which actually had the same agrochemical effect as ammonium nitrate, but belonged to other classes of fertilizers because of the content of impurities. Anti-dumping duties have been imposed on ammonium nitrate since 2014. New anti-dumping duty (42.96%) was imposed in March for all Russian fertilizers containing nitrogen more than 28%. That is, complex fertilizers delivered to Ukraine should be checked for nitrogen content. This became an effective step, since deliveries of Russian NP 33:3, NPK 33:1:1 and others were stopped.
Actually one of the most powerful blow to Russian imports was sanctions against some Russian companies imposed by the Presidential Decree in May 2018. The sanction list included factory-producers, managing companies and Ukrainian representative assets. It is interesting, that products are not subject to these restrictions. Assets, trading and financial transactions were blocked. So, if the company wanted to work further, the new schemes should be built, for example through intermediaries. The sanctions affected certain assets of the chemical groups "EuroChem", "PhosAgro", "Uralchem", "Akron".
Unexpected difficulties with the import of mineral fertilizers from Belarus began in December of this year, although no regulatory documents were issued. Market operators state that customs force importers to make analysis for the composition of fertilizers (in particular, UAN and complex), require the payment of anti-dumping duties. Importers are worried that measures will also be applied to other supplying countries – Georgia, Uzbekistan, Kazakhstan, etc. Everyone hopes that this is a temporary misunderstanding.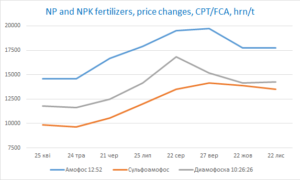 Unavailable phosphorus
Anti-Russian measures the most painfully hit the market of phosphate and complex fertilizers. The sanctions came into force in May, therefore, there was little time left to prepare for the autumn. Ukrainian producers are able to provide a small part of the agricultural sector requirements. Imports of common formulae last year amounted to about 1.6 million tons, of which 69% were imported from Russia. 86% of the popular MAP were supplied by Russia, and its composition is better than Kazakh one – 12:52 vs. 10:46. This year, approximately 750,000 tons of NP and NPK fertilizers were imported from the Russian Federation during 10 months. It is almost twice less than last year. (Substitutes of ammonium nitrate are excluded from all calculations). That is, the supply chains could not be restored completely, and Russians already concern the Ukrainian market as risky for rhythmic shipment.
NPK 16:16:16 remained the leader of sales in 2018 (the majority is Russian; the rest was imported from Belarus). The total volume of deliveries during 10 months amounted to more than 480,000 tons, which means a decrease of 39% compared to the volume of imports in the previous year. The volume of another grade 15:15:15 was considerably more modest – 26,000 tons and decreased similarly – by 37%.
NPK 10:26:26 from several Russian manufacturers and the similar formula 9:25:25 from Belaruskali occupy the second position among the complex fertilizers preferred by Ukrainians. In total, these two NPK grades were imported by almost 200 thousand tons during 10 months. NPK grades 8:19:29 and 8:20:30 have traditionally been supplied from Russia, Belarus and Lithuania in large quantities.
This year Sumykhimprom started to produce complex fertilizers in April. The main grades of the assortment of the plant NPK 15:15:15, 10:26:26, 8:19:29. Unfortunately, the volumes are much less than imported. By November, the plant has made 69,000 tons of all NPK fertilizers.
The greatest intrigue was with fertilizers with high phosphorus content. The common Russian MAP 12:52 were imported 55,000 tons during 10 months, of which less than half were supplied after May. For example, the supply from June to October (inclusive) of last year were five times higher than the import flow of the first 5 months. It is difficult to rely on the Kazakh MAP 10:46. In addition, its supply remained almost the same – 34,000 tons versus 32,000 tons in 2017.
The demand for NPS grows from one year to another in Ukraine, in particular Russian NP 20: 20 + 14S. Two the most common grades were imported about 100,000 tons during 10 months of 2017. However, after the sanctions introduction, its volume decreased significantly. In January-October, import of the product was twice less than in the same period last year, of which, just 9,000 tons since summer. It is worth noting that the Serbian producer Elixir gradually increases its presence in the segment of NPS with a product NP 16:20.
It is difficult to find an equivalent replacement to liquid complex fertilizer NP 11:37 (Cherepovets, Russia). Buyers are trying to cooperate with Ukrainian blenders, look for scarce goods and expect offers from interested foreign suppliers in spring.
Ukrainian plants DZMU and Sumykhimprom also had interesting offers. The first one produced ammoniated superphosphate 10:32, restored MAP 12:52 production, and also produced suspension fertilizers. Starting from the middle of this year, a little bit more than 15,000 tons of fertilizers containing nitrogen and phosphorus were produced. Sumykhimprom delivered to the agrarians the larger volume and supplied to the market 64,000 tons of NP 12:24.
Russian phosphates import is supposed to be replaced partly by fertilizers of domestic, Central Asian and European production. Europe has limited resources to create traditional commodity – MAP, NPK 16:16:16 and others, accordingly they mainly produce premium formulae with meso- and microelements. However, they are much more expensive and in addition must be registered in Ukraine, despite the fact that Ukraine is integrated into the EU. Recently, registration of substances has become problematic. It is hard to think about the "legalization" of fertilizers in a few months. Therefore, only those who was already presented in the market could increase the imports volume until autumn, for example, Serbian and Lithuanian suppliers.
On this background, unexpectedly, unpopular phosphate fertilizers – superphosphates were in demand. From the beginning of the year, more than 120,000 tons of simple and triple superphosphates have been delivered to Ukraine. Import of such phosphate fertilizers from Poland has been already increasing from the second half of 2017, and began to approach the annual benchmark of 30,000 tons. This year, Ukrainian farmers, besides the Polish ones, applied superphosphates from Egypt, Tunisia, Turkey.
Not surprisingly, that phosphate and complex fertilizers have risen in price. The shortage was added to seasonal dynamics. According to the monitoring of IA "Infoindustry", the highest MAP 12:52 prices for wholesale and retail trade reached UAH20,000/t (price increase was 36% from the level of the end of May).
Taking challenges
It seems that domestic producers could delight Ukrainian agrarians. But, it appears that even mineral fertilizers production increase does not always save the harvest. An increasingly acute problem is the internal logistics, which leads to higher prices for products and stretches over time. There are not enough railcars. Now there is a shortage of locomotives, and their speed is far from good. (The standard for a railcar in Ukraine is not less than 100 km per day). Ukrzaliznytsya reduces the number of stations, so it is more difficult to agrarians and market operators to deliver the goods to the warehouse in time and cheaply.
Due to limited imports and logistics, the spring of 2019 can be in a downfall, and prices will increase substantially. Now, ships and trains with ammonium nitrate and other fertilizers come from Europe, Georgia, Belarus, Kazakhstan, etc. every week. Ukrainian nitrogen plants promise to operate at full capacity, providing agrarians with fertilizers. But whether suppliers can pass it to farmers is unknown. This will postpone the demand for a short peak application season. The shortage of the nitrogen fertilizers group will be up to half a million tons. Among phosphate fertilizers, farmers first of all will be looking for fertilizers with high content of active substances, in particular more than 10% nitrogen and 20% P2O5.
Ukrainian producers are trying to take advantage of the situation in order to increase production and supply fertilizers to farmers. However, not everyone can boast. OPZ has not worked for almost the whole year, and its preservation is still ongoing. DniproAzot, which was stable in recent years, has unprecedentedly expanded its own sales network, but it faced with rising gas prices in the summer and stopped. In November, the company announced the production restart, therefore, we hope that the urea from Kamianske will be supplied to the agrarians in spring.
OSTCHEM plants remain optimistic and plan to develop production. In particular, Cherkassy "Azot" could reach about 90,000 tons/month of ammonium nitrate, 80,000 tons/month of urea and expand UAN production to 90 tons/month. "RivneAzot" try to increase calcium ammonium nitrate production. Severodonetsk "Azot" will try use gas as raw material.
The year was relatively good for phosphorus and complex fertilizers producers. Sanctions offered a possibility to increase sales, expand the product line. Sumykhimprom has ramped up NP fertilizers production almost four times and NPK production about twice due to Russian imports reduction.
The mineral fertilizer plant "Bazis" specializing in the production of phosphorus and potassium products with high calcium, magnesium, sulfur and other nutrients content, will increase production this year by 27% after the result 40,000 tons in 2017.
The liquid fertilizers manufacturer RPC "Kvadrat" produced trial lot of microgranular fertilizers on a new production line at the end of the year. Commercialization of products in the market will be started in February 2019. Actual production volume in 2018 has doubled.
In the middle of December, "Terra Tarsa", known as a supplier of Turkish water-soluble and liquid fertilizers, opened its own liquid fertilizers plant in Kakhovka. The claimed capacity is 60,000 liters/day.
It is worth mentioning also about the blending and compacting of fertilizers. Despite the frequent dubious quality, this near-to-shadow industry is growing extremely actively, because farmers have to risk, or to accept poorer qualitative characteristics of products due to lack of funds. However, market operators are not confused, and network operators with wide coverage appeared in Ukraine.
The supply of the main fertilizers will remain a significant problem for agrarians in the new year. Supply increase enriches the choice due to new products from new and old suppliers, but also requires a deeper agronomic expertise. Consequently, if the market does not develop positively, then at least the agricultural producer does it.
Michael Sanitsky, Head Analyst, «Infoindustry» Agency, Ukraine
AgroExpert, December 2018 #12 (125)